47' Riviera Antigua
This yacht is a perfect combination of elegance and luxury. There is a spacious saloon under the deck which has all the required facilities and furniture present in a luxury yacht. Moreover it also has some amazing unique features like cherry wood cabinets, furniture and well furnished washroom.
Contact Us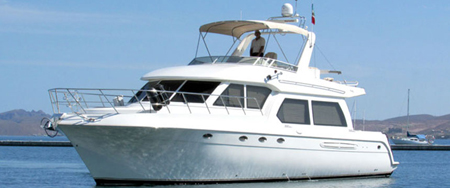 51' Navigator Antigua
A perfect blend of class, elegance and comfort, this yacht has a spacious deck which can accommodate up to 10 guests. It has all the facilities of luxury yachts including music system, barbecue grill and upscale finishes. All the cabinets and interior are finished with glossy cherry wood, metal and glass. Master and stateroom cabins are very spacious and luxurious and have a capacity of up to 5 people.
Contact Us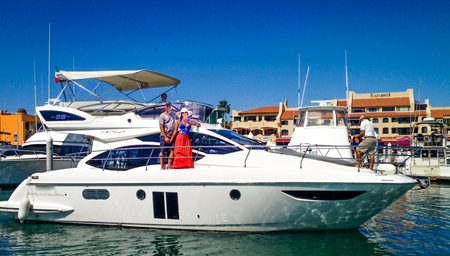 38' Azimut Antigua
38' Azimut is an Italian yacht with an elegant design and unique feature. Every inch of the space is well used which gives it a vast deck with a sun pad and other features. There is a luxurious master cabin which makes it perfect for private yacht charters for couples and also has an extra berth to accommodate another guest.
Contact Us
55' Azimut Antigua
This yacht has amazing design which has made use of all the available space to provide occupants with a spacious deck and features like cockpit entertainment area, wet bar and sun pad. The cabin area under the deck has a master cabin, a luxury guest cabin and a twin bed guest cabin. This yacht is perfect for all kinds of cruises.
Contact Us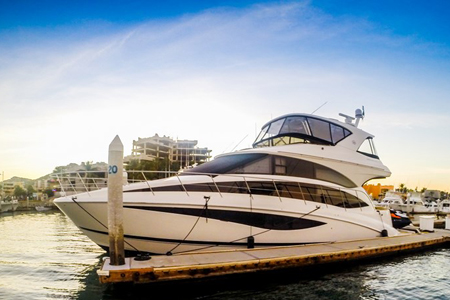 54' Meridian
54' Meridian has a very advanced propulsion system which makes it a true power horse in the world of yachts. It has a powerful engine which makes controlling this yacht much easier. It's a completely luxurious yacht with a comfortable and elegant interior. It is smartly designed to make use of all the space and it can be used for any kind of Antigua yacht charter.
Contact Us
55' Sunseeker
55' Sunseeker is a unique combination of power, performance and style. It has a special design which makes it perfect for water sports and adventures. It provides space for jet ski and wave board and has features like wet bar, sun pad and much more. Its cabins can accommodate up to six people.
Contact Us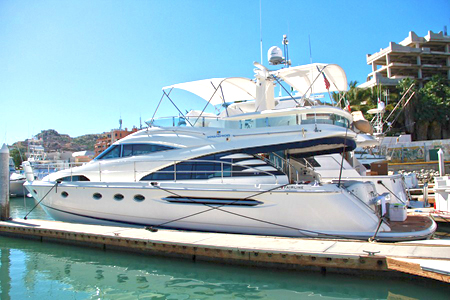 60' Fairline Squadron Antigua
Fairline Squadron is an elegant yacht with a magnificent three cabin design. It includes a master cabin, a special VIP guest cabin and another twin-bed guest cabin. It also includes a luxurious saloon with facilities like TV, DVD and internet. The spacious deck of Fairline Squadron is perfect for sunbathing and water adventures.
Contact Us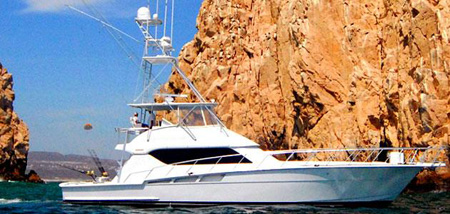 60' Hatteras Fishing Antigua
Specially designed yacht for fishing purposes, Hatteras has all the required facilities and storage capacity. Moreover there are three spacious cabins and a huge deck to accommodate people. This yacht is perfect for long cruises and fishing trips.
Contact Us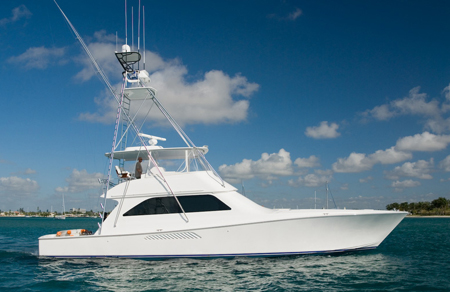 61' Viking Fishing Antigua
This is probably the best equipped and comfortable yacht designed especially for fishing trips. It has an amazing speed of around 40 knots and has well equipped cockpit and cabins. It has 3 spacious cabins and a luxurious saloon and gallery which all make it a perfect luxury yacht.
Contact Us
62' Classic Hatteras Antigua
Classic Hatteras is a luxurious yacht with an elegant design having a spacious deck, cockpit and three cabins. It has a comfortable, well designed interior having optional features like TV, music system, DVD player and internet. To sum up it includes all the features one would like in a luxury yacht.
Contact Us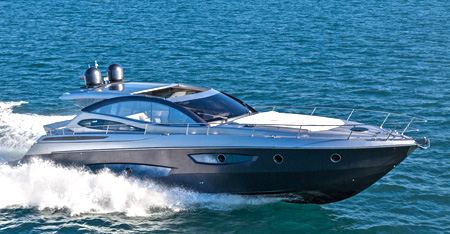 65' Granturismo Rio Yacht for Charter in Antigua
Granturismo is an custom made Italian yacht with carbon helm design. Its innovative features including fuel optimizations and touch screen controller make it one of the best yachts in the world. With so many customization options and easy control this yacht is perfect for a comfortable long cruise.
Contact Us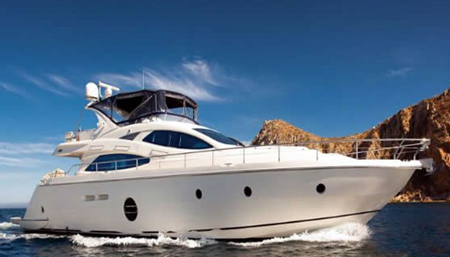 70' Plan B Antigua
70' Plan B has very powerful engines which helps it in achieving speeds up to 30 knots. With features like swimming platform, leather couches and interior made from glossy wood, metal and glass, Plan B is a truly luxurious yacht. Spacious Master, VIP and twin bed cabins are all well furnished and have facilities like washroom, TV and DVD player.
Contact Us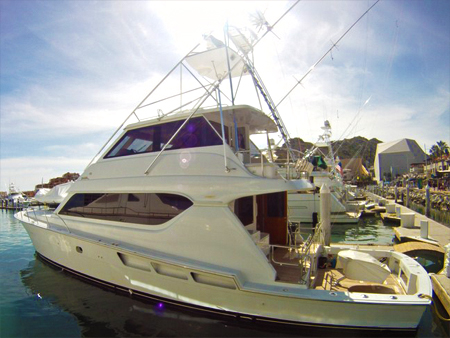 70' Luxury Fishing Antigua
This is a special fishing yacht which makes no compromise on comfort and luxury. It includes four spacious, comfortable cabins with luxurious interior made from glossy wood and leather. It has optional features of TV and internet and is a perfect luxury fishing yacht. It can sail up to a reasonable speed of 27 knots.
Contact Us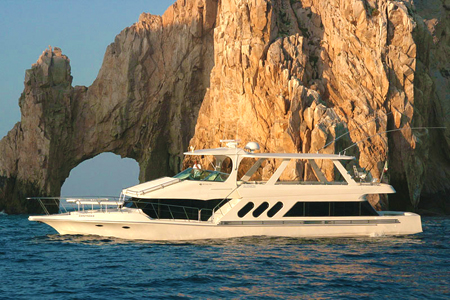 73' Blue Water Antigua
A spacious 3 cabin design and amazing features make blue waters a popular choice. This yacht is designed for yacht charters for around 20 people however it can be used for short events for up to 40 people. Blue Water is perfect for all the Antigua yacht events and trips.
Contact Us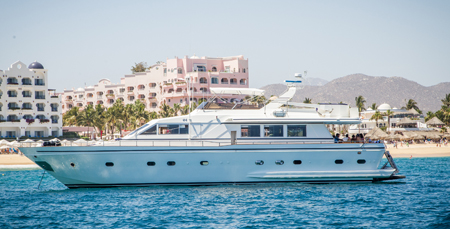 80' Falcon Antigua
80' Falcon is specially designed for intimate trips and long cruises. It has three comfortable cabins which can accommodate six people and it can also be used for events for around 15 to 20 people. With a spacious deck for sunbathing and enjoying views and a luxurious interior, this yacht is perfect for Antigua yacht charters.
Contact Us
90' Luxury Yacht
This huge yacht is elegantly designed with cherry wood, leather, metal and glass.. It has four cabin design having a master room, a VIP guest room and two twin-bed guest rooms. With unique features like TV and DVD in every room, sun pad, wet bar, barbecue grill, spacious cockpit, music system and much more, this yacht is truly a beauty.
Contact Us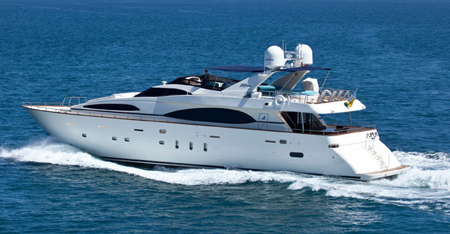 100' Luxury Azimut Mega Yacht
100' Azimut is an enormous luxury yacht with all the facilities you've ever wanted. With two master rooms and two twin bed rooms, it is perfect for trips and events alike. It has facilities like wet bar, fridge, TV, DVD, internet, barbecue, music system and much more. The deck is quite huge and has a sun pad and swimming part which adds to the luxury of this yacht.
Contact Us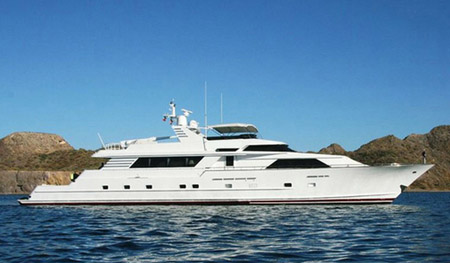 110' Custom Yacht Antigua
With a flexible, customizable design, this huge yacht can be prepared for any Antigua yacht event or trip. You can know more about this yacht and the customization possibilities and options by contacting us. Our team will guide you in detail about every feature and the price packages.
Contact Us